Finding Our Folk
During the Finding Our Folk tour, high school and college students supported by community elders and grassroots organizations toured America and visited cities where Hurricane Katrina survivors were displaced. The tour partnered with local and national community based organizations and learning institutions, to identify evacuees and the cities where they were, to develop curriculum and provide training for high school and college students to facilitate workshops and support the overall documentation of the tour.
In each city, we convened survivors and local community residents to share their stories, and to participate in the different tour activities. In selected cities, the day of learning and healing culminated in a large-scale celebration of the people and culture of the Gulf Coast region. These events allowed evacuees to share their journey through art and culture and featured performances by national and local performers, musicians, poets and visual artists, intertwined with speeches by veterans of the civil rights and current resistance movements.


This Spring, Summer and Fall the Finding Our Folk Tour will travel to college campuses and communities throughout the country to create opportunities for conversations with students, community members and faculty, using art, culture and New Orleans as the locust points for a broader reflection on social change. The tour will feature the Hot 8 Brass Band and involve hip hop artists, poets, elders, historians and educators, activists and organizers, and young people.

Through workshops, performances, panel discussions and open forums, students and community members will have opportunities to learn, discuss, and enjoy the intersections of culture, race, history, and politics in America as evidenced in New Orleans. Through these activities we seek to build awareness that New Orleans is serving as a litmus test for the future of America with regard to housing, education, economics, environmental health and justice and racial justice and to help draw connections between what happened and is happening in the Gulf Coast, their communities and the country.
For information please contact Le'kedra Robertson, Tour Organizer, (985) 215 - 2333,

fofcollegetour

[at]

findingourfolk [dot] org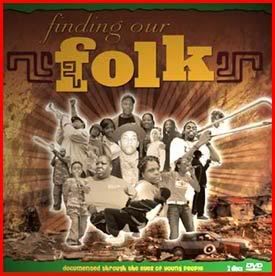 For more info on the FOF DVD Set - Click HERE